Glutacol Capsule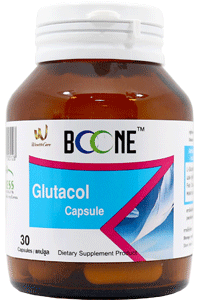 Supplement
Glutacol Capsule
Reg. No. 73-1-00154-1-0004
PRODUCT DESCRIPTION
Important component of Glutacol
| | |
| --- | --- |
| L-Glutathione | 250 mg |
| Fish Collagen Peptide 250 mg | 250 mg |
Dosage : The recommend dose of L-Glutathione is 500 – 2,000 mg per day. Take 1 capsule 2 times a day. To be improved the best absorption takes with vitamin C 1,000 mg.
Packing:
: 30 capsules
Should eat a balanced 5 basic routines.

No effect in preventing or treating disease.
Warning : as well as supplements to the common warning by law.

Read the warning label before consumption.

Children and pregnant women should not eat.

ฆอ. 3104/2556


Related Articles
Knowledge of Fish Collagen Peptide
Back